The Vida Moses Wellington SEA Awards 2022
The Vida Moses Wellington SEA Awards was introduced to reward our young members entering secondary school with a monetary contribution by us to aid with school expenses that will help them along their academic journey. When initially introduced the now defunct Common Entrance Examination was used as entry examination into secondary school when the Secondary Entrance Assessment was introduced in 2001 the name of the ceremony was then changed to the Vida Moses Wellington SEA awards and since then we have awarded hundreds of our young members with monetary awards to aid them with their education.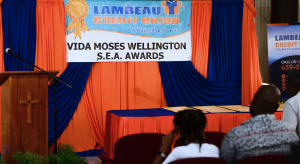 Each year the top performing student of the credit union is awarded a 5-year bursary where the credit union gives a yearly award providing that the student keeps performance levels high at secondary school. Over the years Lambeau Credit Union has kept our commitment to the bursary winners, making yearly awards to the students. The theme for this year's edition of the awards is "Intergenerational Solidarity: Creating a World for All Ages" which calls for the need for all generations to work together to create a society in which we can all thrive.  
This year we awarded 14 of our young members as well 4 students from our adopted primary school Lambeau Anglican Primary with a total of seventeen thousand TT Dollars ($17,000.00) to aid with their preparations going into secondary school.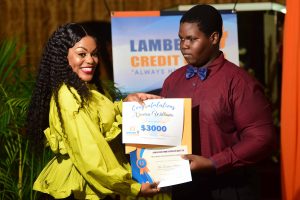 This year's bursary award recipient X'javion Williams received an added three thousand ($3,000.00) TT dollars in monetary award to aid in his educational preparations. X'javion took the top honors but his journey to this point was by no means easy. While in preparation for exams he lost his father. As he said in his speech it was an exceedingly challenging time for him but with the help of his family, he overcame it and succeeded in his examinations. We could not think of anyone more deserving of this year's bursary award. 
The students were given words of encouragement by Ms. Zorisha A. Hackett Secretary for Education, Research and Technology, and Assemblyman Wayne Clarke Area Representative for Lambeau Lowlands. Lambeau Credit Union has always placed the development of our young members of the highest importance. With our many programs and sessions with youth this outlines our willingness to improve the lives of our members in ways that they can benefit in the short and long term. We wish our awardees all the best in their future academic endeavors!